Ski Rental Packages
$38
THE package for aspiring advanced skiers, all mountain experts and those who want the best of skis and boots. Super upgraded boots.
$27
Super fun equipment at a great price. Performance sport skis and warm, comfortable boots are perfect for learning skiers. The skis are very flexible and very easy to turn.
$7
You may upgrade either boot or ski when choosing the Performance Package. The boot upgrade gives more support and more ski control. The ski upgrade allows you to try the very best skis in the world. Upgrading both boot and ski is the Advanced Package.
Enjoy a $1 per person per day discount by reserving your equipment online!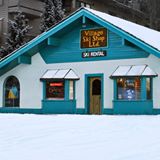 OPEN DAILY
- Sunday to Thursday - 8 am to 6 pm, Friday & Saturday - 8 am to 8 pm
EXTENDED HOLIDAY HOURS
- December 26, 27, 28, 29 & March 6, 7, 8, 9 - 8 am to 8pm
575-377-2475 (Local)
800-469-9327 (Toll-Free)
26 Aspen Street, Angel Fire, New Mexico 87710

No crummy, low level rental boards at Village Ski Shop - only top riding models from Never Summer, Arbor and Burton. Our Performance Snowboard Package comes with Burton bindings and top notch Salomon boots. You can upgrade to our Advanced Snowboard Package to get the absolute hottest boards.

Angel Fire Resort has miles of groomed X-C and snowshoe trails. We rent Atomic and Salomon waxless X-C skis that are perfect for these groomed trails. We rent adult, junior and child sizes.

Our Atlas snowshoes are lightweight, easy to handle, and fun, fun, fun. You can use the prepared cross country trails or make tracks of your own. We have a great list of trails from which to choose. We rent adult, junior, and child sizes.